Catalytic Converter Crimes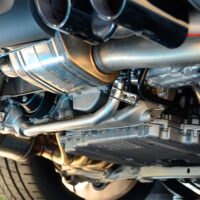 This week, the City of Houston passed an ordinance requiring anyone in possession of a cut catalytic converter to show proof of ownership or face misdemeanor criminal charges.
Like many Texas cities, Houston has seen the rise of catalytic converter thefts, with 3,188 thefts reported within just the first three months of 2022, a 123 percent increase from the same time period in 2021. Houston's push to combat this increasingly common crime serves as a line of first defense for local law enforcement, providing cities with a tool to crack down on and prosecute such thefts.
The new ordinance amends already existing guidance in Houston's Code of Ordinances regarding metal recyclers by adding guidelines for the sale and purchase of catalytic converters.
Houston's push for regulation comes after the 2021 passage of House Bill 4110 by the 87th Texas Legislature, which increased the information a catalytic converter seller must provide to the metal recycling center purchaser. The Texas Legislature also established that any violation of such requirements would constitute a state jail felony.
Even with such efforts, the exponential rise of catalytic converter thefts across the state has Lieutenant Governor Dan Patrick now classifying these thefts as "a big business organized crime operation." In late March, Lt. Gov. Patrick charged Senator John Whitmire, D-Houston, with leading the charge to decrease the now rampant thievery.
As the Chair of the State Legislature's Criminal Justice Committee, Senator Whitmire has taken a no-nonsense approach to investigating the financial incentives for such thefts, calling for the industry to be totally "shut down." Senator Whitmire's strong stance even extends to the beneficiaries of the sale and purchase of used catalytic converters: "Insurance companies will push back. They don't want to have to pay for a new [catalytic converter], but I don't care about their concerns either. We've got to stop something that is feeding the criminal surge, the crime surge in Houston Harris County."
With its unanimous passage, Houston's new ordinance serves as a first step in tackling the increase in catalytic converter-related crime.
The ordinance does a few things:
It places strict requirements on the players of the game. It requires automotive repair facilities to provide to the person purchasing the catalytic converter, a verifiable receipt from the repair facility with (1) the name of the business, (2) the business's contact information, and (3) vehicle identification information. Individual sellers must also provide vehicle identification information, but they must also provide a certificate of title of the vehicle from which the catalytic converter was removed as well as any other information required by Chapter 1956 of the Texas Occupations Code.
It requires additional proof from metal recyclers and individual sellers prior to the purchase of a catalytic converter, including obtaining copies of licenses from the automotive repair facility from which the purchase is being made.
Pictures of the catalytic converter must be uploaded to the police department's selected law enforcement online investigation system along with all other information collected during the sale.
It provides Class C Misdemeanor criminal penalties for anyone without the proper information in possession of a used catalytic converter cut – rather than unbolted – from its original vehicle.
As many of our cities face the rapid growth of catalytic converter thefts, putting first line defenses in place will allow our local governmental entities to curb the increasingly dangerous effects of such crimes facing our communities today.
Please do not rely on this article as legal advice. We can tell you what the law is, but until we know the facts of your given situation, we cannot provide legal guidance. This website is for informational purposes and not for the purposes of providing legal advice. Information about our commercial and business litigation practice can be found here.