Do Christmas Doggies Violate Deed Restrictions?
Christmas is just around the corner, and many families will be opting for that classic and borderline clichéd gift-that-keeps-on-giving: a dog. Not that there's anything wrong with that; even my first family dog was a Christmas gift. So if you're anticipating getting or giving a dog this year—or even if you already have a dog—there are a few legal issues you ought to bear in mind:
First, your lease agreement or deed restrictions may limit the number, breed, or size of dog you may own, or even whether you can own a dog at all. You should check these documents to determine whether any limitations on dog ownership are imposed. Limitations found in a lease agreement can generally be negotiated with your landlord; however, deed restrictions may only be amended by following certain statutory procedures and, in some cases, any additional procedures set forth in the restrictions themselves.
Second, state and local "leash laws" may require a dog to be on a leash while being walked on any property other than property owned by the dog's owner. Also, some jurisdictions have so-called "pooper scooper" laws, which should be self-explanatory. Other laws prohibit an owner from unreasonably restraining a dog outside under certain circumstances, such as extreme weather conditions. Additionally, some jurisdictions require dogs to be registered, but the registration requirement generally cannot target a specific breed.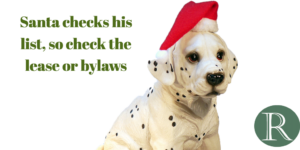 Next, in Texas, if your dog ever bites someone or puts someone in reasonable fear of being bitten—by barking, growling, bearing teeth, etc.—and if the incident is unprovoked and in an area other than the dog's secure enclosure, then your dog ipso facto becomes a "dangerous dog" in the eyes of the law, and a litany of regulations are triggered. Owners of dangerous dogs must register the dog, keep it restrained or in a secure enclosure at all times, and purchase liability insurance. If the owner of a dangerous dog fails to comply with even one of these requirements, an animal control authority may put the dog down. Also, if a dangerous dog were to ever bite someone again, the owner could be charged with a criminal offense and, again, the dog may be put down by an animal control authority. Additionally, the person bitten may sue the dog's owner.
Lastly, at least for this short blog post, you could be liable for your dog's barking. Occasionally, leases and deed restrictions will address dog barking. Therefore, while you are consulting these documents to determine whether you can keep a dog on your property in the first place, you ought to make note of whether the document imposes a limitation on barking. In addition to leases and deed restrictions, some municipalities have a noise or nuisance ordinance that regulates dog barking. Generally, to be in violation of any of the foregoing, the barking has to be atrocious enough to offend a person of ordinary sensibilities, so you don't necessarily have to placate a neighbor who is offended by every little yip and whimper.
Owning a dog is a great responsibility and, in my opinion, an even greater joy. So I hope the legal issues discussed above have not deterred you from giving the joy of man's best friend for Christmas, if that was your intent, but if they have, you could always give a cat instead. In any case, Merry Christmas, and don't forget the air holes!