Citizens Should Engage Public Officials with Ideas to Better Their City
I recently went on a trip to San Francisco to visit a friend of nearly 20 years. While on a hike to the Golden Gate Bridge, she remarked that one of the abandoned buildings we came across on the hike should be turned into restroom facilities. The building needed a little TLC, but otherwise appeared structurally sound.
I asked if she had approached the City about such revitalized use of the building. She had not. In fact, she seemed somewhat surprised by both my question and the fact that she had not thought to do so. Note here, she knows I am a city attorney for several Texas municipalities.
Citizens have many great ideas that they keep to themselves because they do not know how to convey their ideas to the powers that be.
I suggested that she contact her local city council representative first or possibly the City's public works department to inquire about the building's ownership and past use and any possible planned future use.
I told her that the City may already have a plan for the building's use and it would not take much effort to obtain that information. I also suggested she go to a city council meeting to see how local government works.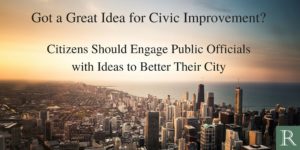 In Texas, almost every city council allows public comments, which provides an opportune time to express any idea one has about how the city should function.
If you are reading this, I am sure you have many ideas on improving your city. Reach out to your local city council member and ask questions.
If you do not feel as if you are getting the answer you deserve, then submit an open records request to the city under the Texas Public Information Act to obtain relevant documents regarding issue of concern.
Not every idea, even the great ones, can happen. For instance, with the old building my friend thought should be turned into restroom facilities, there may be legal issues associated with land ownership (i.e. it may not be city property), water and wastewater connections issues (i.e. the city may need to obtain easement rights), environmental issues (i.e. the building may have been used for hazardous waste storage or contain toxic materials that must be remediated before it can be used). There are a host of non-legal issues as well such as budgetary realities, staffing issues, and security protections.
Navigating small cities is far easier than larger cities because, most of the time, a citizen can simply go to City Hall and speak with staff or council members regarding city issues.
As a city attorney, one of my responsibilities may include researching legal issues brought up by citizens. But stay tuned, as my article next month will be about what a city attorney does for their city client.