Defective Subpoenas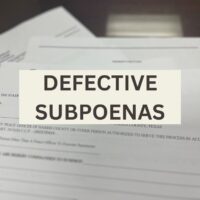 Municipal law enforcement agencies are accustomed to receiving records requests from the public seeking accident reports and incident reports, often for insurance purposes.  In addition to these frequent requests, criminal defense attorneys often attempt to obtain police incident records, body and dash camera videos, and other police records by filing and serving a subpoena duces tecum once appointed as defense counsel. The law enforcement agency has likely already handed over all the items supporting the arrest to the (prosecuting) District Attorney (D.A.) in the County.
Subpoenas served on police departments are often improper and likely defective in one or more of the following ways:
Overbroad, seeking a voluminous number of records.
Fail to comply with Texas Code of Criminal Procedure Articles 24.01, 24.02, 39.04, 39.14.
Filed to circumvent the discovery process with the State (D.A.).
Violate rules of procedure regarding content, format and timeliness.
Premature subpoenas filed prior to the State filing an information, indictment or complaint.
Subpoena duces tecum improperly directs the custodian of records to appear in person "Instanter" on a certain date with the records for a nonexistent court hearing.
The municipal expense of dealing with improper subpoenas involves municipal expense and loss of municipal time.  This waste of taxpayer dollars is particularly troublesome since many of the criminal cases (particularly misdemeanors) end up dismissed or dropped.
Legally, the State prosecutor is required to disclose exculpatory evidence in a criminal case to the Defense, this is known as the Brady Rule.  Brady v. Maryland, 373 U.S. 83 (1963).  A criminal defendant does not have a "general right to discovery" of all evidence in the State's possession. See United States v. Bagley, 473 U.S. 667, 675 (1985) ("The prosecutor is not required to deliver his entire file to defense counsel, but only to disclose evidence favorable to the accused that, if suppressed, would deprive the defendant of a fair trial."); Weatherford v. Bursey, 429 U.S. 545, 559 (1977). The State has this duty to disclose, and it is codified in the Texas Code of Criminal Procedure, Article 39.14, and this duty can be breached whether information is withheld intentionally or accidentally.  These United States Supreme Court cases and Texas statutes and case law assures Texas prosecutors will release and disclose exculpatory evidence.
The El Paso Court of Appeals addressed use of a subpoena to seize a complainant's cell phone during In re State, 605 S.W.3d 721 (Tex. App.-El Paso 2020, orig. proceeding). The defense had a subpoena duces tecum issued for the victim's cell phone in a family violence assault case, (there was also a sexual assault case pending involving the same defendant and complainant).  The El Paso court decided that a subpoena duces tecum must comply with all the requirements of Article 24.02 and 24.03, and it cannot serve as a discovery tool in an attempt to avoid the strictures of Texas Code of Criminal Procedure Article 39.14. See id. at 599-600.
Issuance of a subpoena is predicated on the need for the witness to appear in court and testify for a defined purpose.  A subpoena duces tecum issued to a law enforcement agency ordering the agency to appear in court (not an officer), and hand over records at a court setting that is not a scheduled court hearing date or an opportunity for any testimony to be provided (such as an appearance setting where the defense attorney and prosecutor discuss a potential plea deal) is an abuse of subpoena authority.
The necessary legal response to the filing and service of an improper subpoena or subpoena duces tecum is the filing of a Motion for Protection, often referred to as a Motion to Quash.  Texas Rules supporting the Motion for Protection include Texas Rules of Evidence, Rules 902(10) and 803(6) and the Texas Rules of Civil Procedure 176.1-176.6, and 205, and the Texas Rules of Evidence Rules 902(10) and 803(6).
Please do not rely on this article as legal advice. We can tell you what the law is, but until we know the facts of your given situation, we cannot provide legal guidance. This website is for informational purposes and not for the purposes of providing legal advice.