Go Speed Racer, Go! (Or Maybe Don't)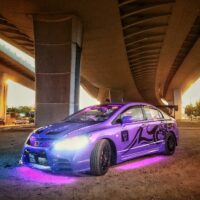 Those of a certain vintage might remember the late 1960's animated Speed Racer series and others might be more familiar with the re-airing of the series in the 1990's or even the 2008 movie remake, but either way, you probably now have the earworm opening song stuck in your head.  Speed Racer sought to become the world's greatest car racer, but the embrace of street racing by ordinary people as well as the social media-fueled phenomenon of street takeovers have become a dangerous problem in both rural and urban public street settings.
Street racing is a tale as old as time.  From the hot rod era of the 1960's, muscle cars of the 1970's, to modern sports cars, it has always been popular and unsafe.  Not only does it pose enormous risks to drivers, but it also is known to cause injury and even death to passengers and bystanders due to its unsanctioned and thus unregulated nature as well as occurrence on public roadways.
Street takeovers are a more modern phenomenon, often fueled by social media, in which multiple drivers show up at an intersection to show off their cars to spectators.  The drivers often "drift" or "do donuts" in the intersection to display their driving and vehicular capabilities, sometimes before hundreds of observers.  The ubiquity of social media makes it possible for street takeovers to become large and happen very quickly, creating great challenges for those trying to protect public safety.  Spectators have even been known to physically prevent law enforcement access to such events by blocking roads with their bodies and their own cars.
In an effort to curb street racing and street takeovers in Texas, the Texas Legislature passed HB 1442, effective September 1, 2023.  During the prior 87th Legislative Session, "reckless driving exhibition" was created as an offense under the Texas Penal Code, but because it was not an offense listed under Texas Penal Code Chapter 71, Engaging in Organized Criminal Activity, it could not be used as a legal basis to impound a vehicle used in this conduct.  H.B. 1442 amended the Texas Penal Code to expand the conduct that constitutes the offense of "engaging in organized criminal activity" to include "committing or conspiring to commit the offense of obstructing a highway or passageway by engaging in a reckless driving exhibition as the operator of the motor vehicle with the intent to establish, maintain, or participate in a combination or in the profits of a combination or as a member of a criminal street gang."  The new law also amended the Code of Criminal Procedure to broaden the circumstances under which a vehicle and other contraband being used during street takeovers could be seized by law enforcement. Prior to this law, a vehicle could only be seized for felony and Class A misdemeanor reckless driving charges.
Time will tell if the new law serves as the intended deterrent, but the hope is that it will save lives.  It's best for folks to slow down on the actual road and limit their street racing to Mario Kart or Gran Turismo.
Please do not rely on this article as legal advice. We can tell you what the law is, but until we know the facts of your given situation, we cannot provide legal guidance. This website is for informational purposes and not for the purposes of providing legal advice.