How an Unincorporated Community Can Become a City in Texas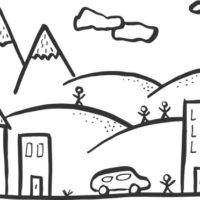 Texas has more than 1,200 incorporated cities – or municipalities. Such municipalities range in size from Houston (with more than 2.3 million residents) to over 400 towns with populations of fewer than 1,000. However, Texas also has more than double that number of unincorporated communities.
So, what is the difference between an unincorporated community and an incorporated municipality?
In Texas, an incorporated municipality is a local unit of government with elected officials that has the power to adopt ordinances governing certain matters. A municipality provides public services such as police, fire, and utilities – and may levy taxes to pay for such services.
By contrast, an unincorporated community does not have a local government and does not have elected officials at the town level. These communities exist as part of a larger unit of government such as a county – or in some instances a larger municipality.
Texas law provides a path for unincorporated communities to incorporate as full-fledged municipalities if they so desire.
So why would an unincorporated community wish to incorporate?
There may be several reasons. In some instances, a community may simply wish to obtain a level of autonomy by having greater control on the local level. When a community is incorporated it has the ability to govern local issues important to its citizens, as well as gain greater control over its tax revenue. Additionally, unincorporated communities often have very little say in what is built in their area. Because municipalities have the ability to control their own zoning laws, incorporation can be a method for members of a community to protect their property values. Still other communities may wish to incorporate as a means of protecting themselves from being engulfed by a neighboring municipality through annexation – subjecting them to the taxes of the existing municipality with far less say in how they are utilized.
Regardless of the reasons, if an unincorporated community wants to become a city in the State of Texas, there are specific steps that must be followed.  The rules for incorporation are outlined in the Texas Local Government Code.
The first step is to determine the geographic area of the community they wish to incorporate. A municipality may not be incorporated in the extraterritorial jurisdiction (ETJ) of an existing municipality unless the governing body of the existing municipality gives its written consent by ordinance or resolution. See Tex. Local Gov't Code § 42.041(a). If a community is within the ETJ of an existing municipality and the governing body of such municipality refuses to give its consent, a majority of the qualified voters of the community and the owners of at least 50 percent of the land in the proposed municipality may petition the governing body to annex the area.  If the governing body fails or refuses to annex the area within six months after the date it receives the petition, that failure or refusal constitutes the governing body's consent to the incorporation of the proposed municipality. See Tex. Local Gov't Code § 42.041(b).
The next step is for the community to determine the population and decide what type of municipality form is the best fit for its citizens. Depending upon its size, a community can be incorporated as type A,[1] B[2] or C[3] general law municipalities or as a home rule municipality[4] with its own charter.
The community must then collect signatures of registered voters living within the proposed geographic boundaries. The number of signatures needed is based on the number of total registered voters living within the area. For small, dense towns that fall under the Type A and B General Law municipalities, only 50 signatures are needed. See Tex. Local Gov't Code §§ 6.002 and 7.002. For Type C General Law municipalities, 10 percent of the registered voters in the area must sign the petition. See Tex. Local Gov't Code § 8.002.
The community must then submit a petition with the county requesting the county judge to order an election to determine whether the community will incorporate. See Tex. Local Gov't Code §§ 6.002, 7.002, and 8.002. If satisfactory proof is made, the county judge must order an incorporation election to be held on a specified date and at a designated place. See Tex. Local Gov't Code §§ 6.003, 7.003, and 8.003.
The final step is for the community to vote. If a majority of the registered voters in the proposed geographic boundaries vote to incorporate, then a new Texas city is born.
Please do not rely on this article as legal advice. We can tell you what the law is, but until we know the facts of your given situation, we cannot provide legal guidance. This website is for informational purposes and not for the purposes of providing legal advice. 
[1] Which must have at least 600 inhabitants, contain one or more manufacturing establishment within its corporate limits, or be incorporated under any law of the State of Texas. Tex. Local Gov't Code § 6.011.
[2] Which must have a population of 201 to 9,999 inhabitants. Tex. Local Gov't Code § 7.001.
[3] Which must have a population of 201 to 4,999 inhabitants. Tex. Local Gov't Code § 8.001.
[4] Which must have at least 5,000 inhabitants and requires the community to adopt a home-rule charter. Tex. Const. art. XI § 5.