Municipal Authority to Slow Drivers Down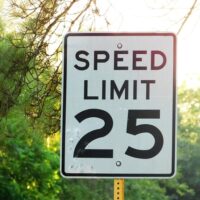 In Texas, most of the side streets and residential streets in cities have a speed limit of 30 miles per hour.  There is a reason for this; it is by statutory design.  In my opinion though, it is not uncommon that no matter what Texas road you are driving on most of the drivers are driving at highway speeds and beyond.  Texas has highways with a legal posted speed limit as high as 85 mph.  The term "highway" in Texas statutes means any road.  Compare that to the term "state highway," which refers to state-owned and operated highways.
Municipalities frequently adjust speed limits as the population increases, land development increases, and new schools are built.  The process to determine what and how to adjust is complicated and may be expensive when hiring engineers to perform a "speed study".
The Texas statutes regarding speed limits are set out in the Texas Transportation Code and it sets the maximum at 70 mph.  The statutory scheme for setting speed limits is complex. For example, despite a maximum of 70 mph the Texas Transportation Commission may establish a maximum speed limit of either 75 mph, or 80 mph or 85 mph "if the highway is designed to accommodate that speed on the highway system if that speed is determined to be safe and reasonable after a traffic or engineering study".  Transportation Code Section 545.353 authorizes the Commission to alter maximum speed limits on highway roads both within and outside of cities. The required steps are set out in the 89-page Texas Department of Transportation (TXDOT) Manual titled "Procedures For Establishing Speed Zones".
Texas lawmakers adopted a statute that states the "prima facie" speed limit for "urban districts"[1] is 30 mph.  In addition to the statutes in the Transportation Code, the Texas Administrative Code provides that the authority for cities to set speed limits and speed zones shall be set out in the Texas Transportation Code.  In the Administrative Code "prima facie" is defined as "those limits which are on the face of it, are reasonable and prudent under normal conditions.
Are you still with me?  The definition of prima facie as it applies to speed limits is not in the Transportation Code.
The authority for a municipality to lower the existing posted speed limit is found in the Texas Transportation Code 545.356.  A speed limit that is altered by a city is effective when the governing body erects signs giving notice of the new speed limit. Sec. 545.356. However, there are steps necessary to determine what the appropriate speed limit is which may involve hiring an engineer to do a speed study.   The TXDOT manual defines a speed study as "a description of how to conduct an engineering and traffic investigation as the basis for establishing a regulatory speed zone along a roadway. This investigation is commonly called a "speed zone study" or "speed study". Cities in Texas often are required to perform such studies and the study must find that the prima facie speed limit is unreasonable or unsafe for that road.
Back to the "slowing down" byline.  State Representative Ana Hernandez, 143rd District, Houston authored House Bill 2224 which, if the bill is passed, will allow cities to decrease the prima facie speed limit to 25 mph without the expenditure of municipal funds on a speed study. The change to the statute is simple: "A municipality is not required to perform an engineering or traffic investigation to declare a lower speed limit under this subsection if the street is located in a residence district."
Speed limits on city streets are a hot topic with residents.  City attorneys across the state walk through this statutory maze of requirements so this one-line straightforward modification providing municipal authority without complexity is refreshing.
Did I mention (in addition to highways) that a freeway in Texas is a divided, controlled-access highway for through traffic?
[1] "Urban district" means the territory adjacent to and including a highway, if the territory is improved with structures that are used for business, industry, or dwelling houses and are located at intervals of less than 100 feet for a distance of at least one-quarter mile on either side of the highway.
Please do not rely on this article as legal advice. We can tell you what the law is, but until we know the facts of your given situation, we cannot provide legal guidance. This website is for informational purposes and not for the purposes of providing legal advice.