Regional Councils and Disaster Relief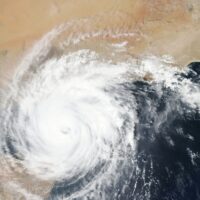 It is likely that none of us pictured a hurricane or even flooding when we first read "The Rime of the Ancient Mariner" where Samuel Taylor Coleridge describes "water water everywhere".
While heat is usually the topic of summer conversation, June 1st through November 30th is hurricane season in Texas. In fact, hurricanes and tropical storms are most prevalent in August and September, and often result in flooding. With that in mind, storm preparedness is crucial for municipalities at this time of year. If a disaster does occur; however, who assists municipalities in recovery? One answer is regional councils.
Regional councils are groups of volunteers that work to organize unified development for local governments and improve government efficiency within their respective regions.
These organizations are not governments and do not have authority to make laws, levy taxes, or exercise police powers. Following recovery efforts from flood damage caused by Hurricane Harvey, regional councils began partnering with state agencies and local governments to coordinate and administer programs to assist cities and counties impacted by storms to rebuild their communities. Regional councils work with the Texas Department of Emergency Management (TDEM) to access state resources within the region when disasters strike and to ensure that all regional and local emergency plans are up-to-date and compliant with Section 418 of the Texas Government Code.
While Section 418 provides the governor with the authority to declare and extend disasters, it is the coordinated efforts of the regional councils that result in strategies that address statewide and local needs on a regional scale.
This statewide association of regional councils is known as the Texas Association of Regional Councils (TARC). TARC is comprised of city, county and special district members, totaling 24 regional councils, whose members focus on implementing result-oriented strategies to address assisting local governments throughout Texas by working on projects vital to the health and safety of Texans. Part of this assistance comes through TARC working closely with state and federal partners to develop regional preparedness strategies for events such as hurricanes and flooding. After Hurricane Harvey, TARC initiated communications with other regions impacted by the storm to ensure the same information was being shared throughout the region. TARC also provided technical assistance to affected communities, and still continues to serve as a steady and reliable partner with local, state, and federal government entities in all communications and recovery efforts in the aftermath. Of the 24 regional councils, it was the Houston-Galveston Area Council (H-GAC) that was able to provide the most direct help after Harvey. The H-GAC serves 13 counties and is continuing to grow and become more diverse as Houston's population continues to increase. H-GAC's stated mission is to serve as the instrument of local government cooperation, promoting the region's orderly development and the safety and welfare of its citizens.
All H-GAC programs are carried out under the policy direction of H-GAC's local elected Board of Directors.
H-GAC is made up of the region's local governments and their elected officials, and they work together with public and private sector organizations as well as a host of volunteers. H-GAC serves the following 13 counties: Austin, Brazoria, Chambers, Colorado, Fort Bend, Galveston, Harris, Liberty, Matagorda, Montgomery, Walker, Waller, and Wharton. The region has more than 100 member cities within it. The H-GAC Board of Directors meet every third Tuesday of the month. For more information on this Houston and Galveston area regional council, please visit www.h-gac.com.
Please do not rely on this article as legal advice. We can tell you what the law is, but until we know the facts of your given situation, we cannot provide legal guidance. This website is for informational purposes and not for the purposes of providing legal advice. Information about our commercial and business litigation practice can be found here.