Selling Park Land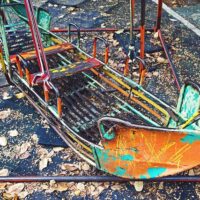 Recently, a decades long dispute was settled when one of the parties agreed to swap park land for a new location so that a development could progress.  Can a political subdivision of the state just write and execute a deed to transfer title?  Is the land really a park?  It's complicated, especially if a city has a series of pocket parks.  Next to me, under the flyovers of two local freeways, is a pocket park. I have never seen a single person in it (and why would they, the noise from the traffic and exhaust fumes is awful) but is it still a park?
The law does not define a park, but case law has held that any place that is "ornamented and improved as a place of resort for the public, for recreation and amusement of the public [can be a park]. The construction and maintenance of a building for museums, art galleries, botanical and zoological gardens, and many other purposes, for the public benefit, are recognized as legitimate [park] purposes…" King v. City of Dallas, 374 S.W.2d 707, 710 (Tex. Civ. App. – Dallas 1964, writ ref'd n.r.e).
Given this definition, how did the city treat or list the land as a park, and what is the procedure? Texas Local Government Code Chapter 253.001 requires an election by the voters to approve the sale.
 "Land owned, held, or claimed as a public square or park may not be sold unless the issue of the sale is submitted to the qualified voters of the municipality at an election and is approved by a majority of the votes received at the election; provided, however, this provision shall not apply to the sale of land or right-of-way for drainage purposes to a district, county, or corporation acting on behalf of a county or district."
The Local Government Code is not the only code impacting a park sale.  Chapter 26 of the Texas Parks and Wildlife Code requires a public hearing:
(a) A department, agency, political subdivision, county, or municipality of this state may not approve any program or project that requires the use or taking of any public land designated and used prior to the arrangement of the program or project as a park, recreation area, scientific area, wildlife refuge, or historic site, unless the department, agency, political subdivision, county, or municipality, acting through its duly authorized governing body or officer, determines that:

(1) there is no feasible and prudent alternative to the use or taking of such land; and

(2) the program or project includes all reasonable planning to minimize harm to the land, as a park, recreation area, scientific area, wildlife refuge, or historic site, resulting from the use or taking.

(b) A finding required by Subsection (a) of this section may be made only after notice and a hearing as required by this chapter.
Therefore, to sell a park, you would need to do the following:
Determine title specifically if the property was bought with park bonds.
Determine if there are any deed restrictions.
Call and conduct a public hearing and make the appropriate findings.
Negotiate, document and close on the park sale conditioned on a voter approval.
Call and conduct the election affirming the sale.
The proceeds from the sale may only be used for another park.
Texas, does not want to lose any more parkland, can you tell?
Please do not rely on this article as legal advice. We can tell you what the law is, but until we know the facts of your given situation, we cannot provide legal guidance. This website is for informational purposes and not for the purposes of providing legal advice.