"Sovereign Citizens and Your Local Government"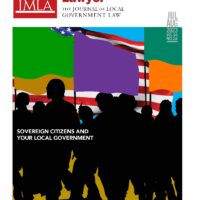 IMLA, the International Municipal Lawyer's Association, featured an article by our Executive Vice President, Judith El Masri, as their cover story for their July/August magazine. "Sovereign Citizens and Your Local Government" examines the historical roots of the movement, how and where municipal or government officials may encounter them in their city, and the justice system, and what to anticipate. Also examined are the motivations and goals of the sovereign citizen, and the possible solutions. strategies and practices to implement for dealing with sovereign citizens and those that follow similar ideology.
To read the full piece, please click the link below. This article is republished with permission of the International Municipal Lawyers Association (IMLA) from the July-August 2023 issue of Municipal Lawyer, an IMLA publication. Copyright © 2023 IMLA.