Telephone Consumer Protection Act (TCPA)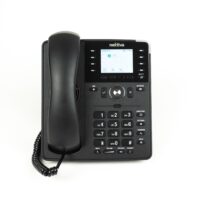 The federal law to regulate telephone solicitations is known as the Telephone Consumer Protection Act (TCPA); implemented by President Bush over 30 years ago.  Any person, business, or entity that conducts telephone solicitations should comply with the TCPA; this includes voice calls, faxes, VoIP calls, and text messages.  The TCPA also introduced the requirement that companies making telephone solicitations institute procedures for maintaining a company-specific do-not-call list. In 2003, that requirement was revised to establish a national Do-Not-Call Registry of people who do not want to receive telemarketing calls.
The law defines "telephone solicitation" as "the initiation of a telephone call or message for the purpose of encouraging the purchase or rental of, or investment in, property, goods, or services, which is transmitted to any person, but such term does not include a call or message (A) to any person with that person's prior express invitation or permission, (B) to any person with whom the caller has an established business relationship, or (C) by a tax exempt nonprofit organization." 47 U.S. Code §227.
The five (5) major types of TCPA violations involve:
unauthorized prerecorded voice messages or "robocalls"
unsolicited text messages
violations of the do not call registry
deceptive caller ID practices "spoofing"
What about cities? Do they have to comply with the Federal Law regarding automated calls? As of 2016, the TCPA has an emergency purpose exception, and the FCC has determined it should be broadly interpreted. For example, if a city was to send a warning to its citizens regarding dangerous weather conditions, that would be exempt from the FCC.
However, the FCC ordered in late 2020 that "local government entities, including counties, cities and towns are 'persons' within the meaning of the TCPA's automated and prerecorded voice provision and are subject to the Telephone Consumer Protection Act.  In February 2021 the FCC decided that state or local government contractors are also defined as a "person" and not exempt from the TCPA restrictions.
Local governments and their contractors must obtain prior express consent before making automated calls.  This same FCC determination stated federal governments and state governments are exempt from the requirement of express consent.
Most residents of large cities and increasingly smaller cities receive automated phone or text messages regarding city conditions, road construction, dangerous weather conditions affecting health and transportation, and other important notifications.  Generally municipal notifications are for emergency purposes and likely not subject to the TCPA.  What about notifications about local events such as the County Fair; Christmas Tree Lighting; or other city holiday celebrations?
The safest course of action is for local governments and their vendors/contractors that supply the emergency calling or municipal notification telephone calls to obtain prior express consent.  Further, cities should be cautious about offers to purchase phone lists for the purpose of non-emergency notifications due to the inability to confirm prior express consent.  This is particularly true in light of federal court decisions in the last year ruling individuals have a right to bring a claim under TCPA for violation of a "do not call list".  A number of jurisdictions that include 3rd [Philadelphia] 6th  [Cincinnati], 11th [Atlanta] circuit (U.S. Courts of Appeal) courts and Texas and North Carolina federal courts have decided a private right to bring a legal action is available for violations of the TCPA.
Please do not rely on this article as legal advice. We can tell you what the law is, but until we know the facts of your given situation, we cannot provide legal guidance. This website is for informational purposes and not for the purposes of providing legal advice.