Paw-licy Update on Unlawful Restraint of a Dog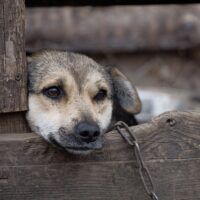 Previously, I wrote about requiring the registration of pets within city limits; today I bring you another animal policy update about one of America's favorite pets, dogs. While many people treat their pets like family, there are those that neglect their dogs to the point of animal cruelty. Too often, we see photos circulating on the news or social media of dogs chained to a tree outside with no food, water, shade, room to use the restroom, or any protection from the harsh Texas weather.  Well, Texas has had enough with people neglecting their dogs, especially after so many perished last year during the unforgettable winter storm.
On October 25, 2021, the Senate passed the Safe Outdoor Dog Act, making it unlawful to leave a dog outside and unattended by use of a restraint unless the dog has access to: "(1) adequate shelter; (2) an area that allows the dog to avoid standing water and exposure to excessive animal waste; (3) shade from direct sunlight; and (4) portable water." Tex Health and Safety Code §821.102. Additionally, a dog may not be restrained by use of a chain. The new law became effective on January 18, 2022, and its purpose is to provide a more humane standard of care for outdoor dogs, along with an effective way of enforcement.
Texas expanded on the term "adequate shelter" and now defines it as "a sturdy structure: (A) that provides the dog protection from inclement weather and (B) with dimensions that allow the dog while in the shelter to stand erect, sit, turn around, and lie down in a normal position." Tex. Health and Safety Code §821.101. Inclement Weather includes "rain, hail, sleet, snow, high winds, extreme low temperatures, or extreme high temperatures." Id. While Texas has provided more basic care standards for outdoor dogs, it also gave teeth to this law making it a Class C Misdemeanor for first time offenders and a Class B Misdemeanor for anyone who has already been convicted once of violating the Safe Outdoor Dog Act.
Although Texas had an unlawful restraint law on the books prior to the Safe Outdoor Dog Act, it did little in the way of protecting dogs from neglectful owners. See Tex Health and Safety Code §821.077, repealed on January 18, 2022. The previous law only made it unlawful for a dog owner to leave a dog restrained and unattended outdoors between the hours of 10 pm and 6 am, within 500 feet of a school, or in the case of extreme weather conditions. Id. There were no provisions addressing adequate shelter, the area around the dog, protection from sunlight or leaving out portable water. The next failure of the previous, now repealed, law was that while it provided for criminal penalties, it also required peace officers to give 24-hour notice of violation of the law prior to issuing a citation. This was an issue, as a dog could easily perish within 24 hours without basic care or people would just unleash them while still not providing the adequate shelter to make it through harsh weather conditions. This new law repealed the 24-hour notice, and peace officers may immediately issue a citation to the owner, potentially saving an innocent dog.
The Safe Outdoor Dog Act also provided it would not preempt a local regulation or affect the authority of a municipality to adopt or enforce local regulations so long as the regulations are "equal to or more stringent than" the requirements provided by §821.102 or "relates to an issue not specifically addressed" by §821.102. Tex. Health and Safety Code §821.104. Of course, there are some exceptions to restraining your dog outdoors but those will be left for another day.
Please do not rely on this article as legal advice. We can tell you what the law is, but until we know the facts of your given situation, we cannot provide legal guidance. This website is for informational purposes and not for the purposes of providing legal advice. Information about our commercial and business litigation practice can be found here.